Digitalization for construction suppliers based on Microsoft technologies
Our innovative solutions for the construction industry
Innovative solutions for construction industry: Digitalization based on Microsoft technologies
Extend the capabilities of Microsoft Dynamics CRM and the Power Platform
With our industry solutions for construction and construction supply companies based on Microsoft products such as Dynamics 365 and Microsoft Power apps, we support the digital transformation in your company. We support construction projects from property search and planning to project acquisition and successful implementation and property management. Benefit from our in-depth expertise and our extensive network within the industry!
The ORBIS solutions and their application areas at a glance
Identify potential construction projects faster than your competitors! Using ORBIS ConstructionHUB, you can consolidate construction projects from numerous data suppliers and then feed them into your CRM for further qualification and processing.
ORBIS ConstructionONE (powered by Microsoft Dynamics CRM) is a renowned customer engagement application and can help you meet your specific needs as a construction company or construction supplier. Effectively manage the sales phase and planning through this extension of the CRM system, and efficiently guide your activities and plans towards your goal.
In order to make your work on site easier, we have developed ORBIS ConstructionSITE, an innovative construction site app based on Microsoft Power Apps. With the help of the extensive functions of this software, your employees can use their smart phones to complete work on the construction project in a much more time-saving and effective manner.
Once the construction project has been implemented, ORBIS ServiceONE (based on the CRM solution Microsoft Dynamics 365) enables the holistic planning of your facility management service activities. By integrating ORBIS ServiceONE into your CRM, you can achieve smart and automated customer service and increase both customer satisfaction and service productivity.
Holistic project management right from the start
ORBIS solutions complement and extend the capabilities of Microsoft Dynamics CRM and Power Platform, thereby enabling you to map your industry's processes both end-to-end and digitally. The following graphic shows where the respective solutions support you as a company in the construction industry: from property search and property planning to the offer and order phase to construction site management and monitoring.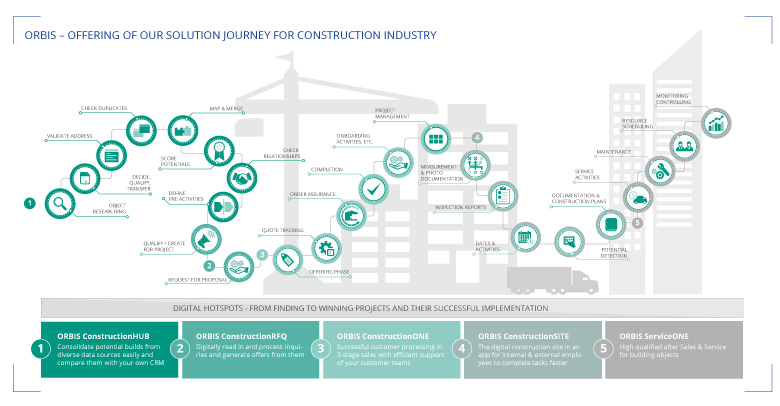 ORBIS ConstructionONE: Our Microsoft Dynamics 365 CRM solution for the construction industry
With our industry solution, we support construction suppliers in adapting their Microsoft Dynamics 365 CRM system to suit their industry.

Our expertise as well as experience from numerous customer projects as a Microsoft partner flowed into the development of ORBIS ConstructionONE based on Dynamics 365. In doing so, we focused specifically on the complex challenges and trends on the market.

With the help of the new Dynamics CRM software features enhanced by ORBIS ConstructionONE, our customers will be able to make better decisions in the competitive and challenging environment of their industry.

Take this opportunity to receive a quick introduction to Microsoft Dynamics 365 with the industry-proven and predefined processes of ORBIS ConstructionONE.
ORBIS ConstructionHUB: The data hub for your construction projects
Recognize potential earlier than the competition, and increase your efficiency and effectiveness! ORBIS ConstructionHUB provides you with a predefined platform that consolidates different sources and presents them in a uniform manner. Keep up to date on current tenders and construction projects.
In this way, we support our clients in the construction industry in finding their winning team (architects, planners and general contractors) , optimally managing sales and increasing their order quota and sales.
With a standard integration of our partners ibau, documedia, Building Radar, teleaktiv, DTAD, and BarbourAbi as well as up to 36 further international tender sources, we support potential construction projects throughout the sales and bidding process.
ORBIS ConstructionSITE: The app for the digital construction site
During numerous site visits with renowned companies in the construction supply industry, we analyzed construction site processes and incorporated the findings into software development.
Based on the Microsoft Power Platform, ORBIS ConstructionSITE optimizes communication between the people involved in the project and simplifies the report documentation in your company (e.g., the inspection report can be stored directly in the system). Another relevant module is the facilitation of automated measurement on the property – this can save up to 70% of time compared with manual measurement. There is thus no need for post-processing in the construction container; the information is immediately forwarded to the production headquarters.
Further potential for additional orders is easily identified and documented in the system, and the sales department is promptly notified of this opportunity. You can also optimize your customer management processes (for example: complaints or technical support) and ensure simplified customer service processing.
By using this innovative application, you will be fully supported in your work on the property, and your processes will be made more time-saving and easier – even off line!
Would you like a 1:1 consultation on a specific topic? Feel free to contact our ORBIS experts and make an appointment for your personal request!
ORBIS ConstructionONE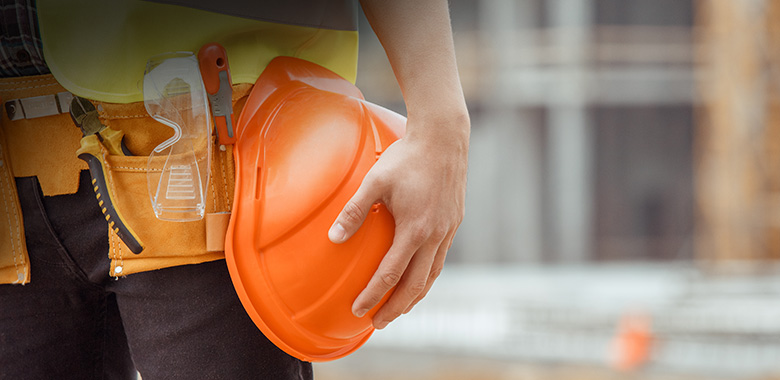 Microsoft Dynamics 365 – CRM for building suppliers
ORBIS ConstructionHUB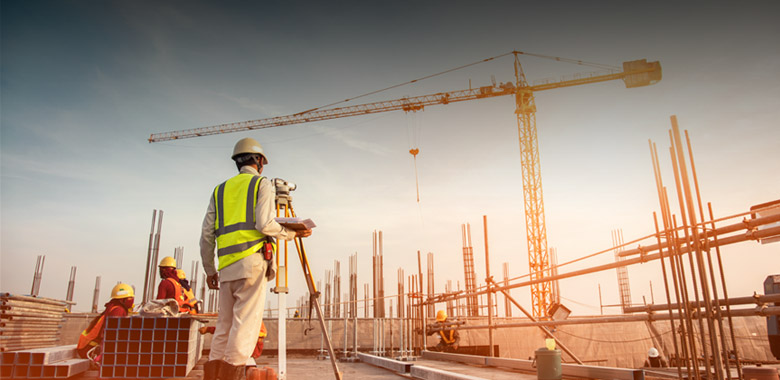 Construction site identification with artificial intelligence: The data hub for construction projects