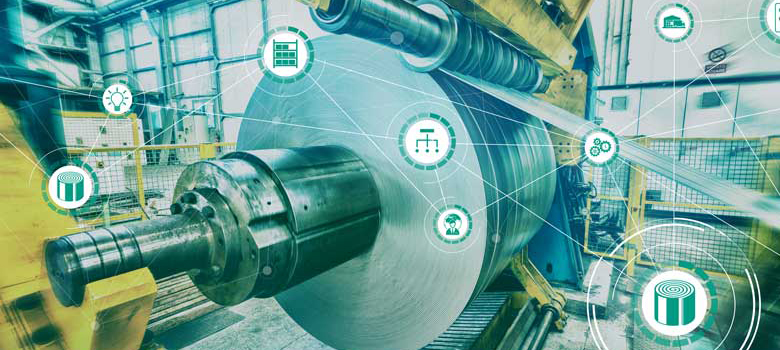 The digital solution for the metal industry
ORBIS Steel – Digital Solution Experts in the Metal Industry
The perfect solution for configuring variants using rule tables for standards, quality, tolerances, storing customer standards and much more
In the metalworking industry, the material quality is described by many characteristics that are grouped in DIN ISO standards. They describe, in detail, the chemical composition, the mechanical attributes, the surface quality and much more. For many customers, the DIN ISO standards available today are no longer sufficient, and they have their own higher standards, which they define in customer standards. Being able to reliably map these properties, grouped into standards, requires comprehensive and extensive know-how or a set of rules that shows the permissible combinations. In the ORBIS Steel solution, the item creation is based on such a set of rules. The user simply creates item variants and is then reliably guided through the maintained set of rules to produce feasible items flawlessly.
The solution and consulting portfolio of ORBIS Steel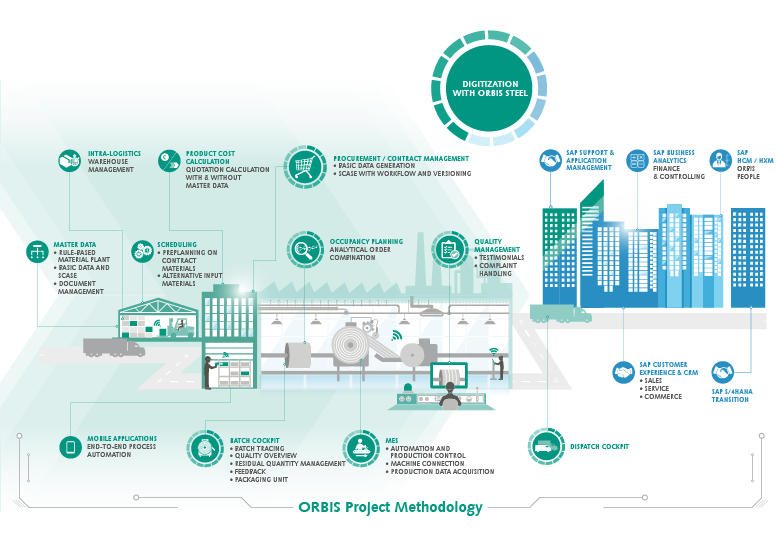 The solution and consulting portfolio of ORBIS Steel offers a full range of functions that provide you with the support you need in all company areas. From procurement to shipping, you are accompanied by the digital solution.
Core functions of the ORBIS Steel solution
The ORBIS Steel solution has many core functions that support your process across divisions. These include procurement or contract management, occupancy planning, quality management, batch cockpit, the MES (Manufacturing Execution System) and the shipping cockpit.

1. Procurement / contract management
In the steel industry, people face the challenge of planning for the purchase of the primary material over a long period of time. Since this is not possible for concrete primary materials, contracts on group items are agreed upon for certain grades. These must then be reduced accordingly for the concrete orders. Here, ORBIS Steel offers a smart solution using partially-configured group materials and contract determination to the characteristics of the ordered item.
The second challenge of procurement is the pricing, since surcharges are incurred depending on the characteristics, which must automatically be included in the order. The ORBIS Steel solution solves this problem using characteristic-based variant pricing. Supplier batches ready for shipment can be accepted in advance and are available for planning.

2. Occupancy planning
Production is provided a wide range of functions with the ORBIS Steel solution. These include the planning and monitoring of order combinations as well as waste optimization. Blade planning and the consideration of machine restrictions are also functions of the ORBIS Steel solution. The solution also offers quality comparisons based on attributes, plus the ability to search for more efficient primary materials and a characteristic-based setup optimization.
In surface machining, for example, when cutting partial surfaces from a total surface, the challenge is to find the best possible combination to completely and effectively use the entire total surface in one work step. To achieve this, the planner must identify the combinable needs within a quality and find a suitable primary material, which meets all requirements and causes as little waste as possible. The planner also needs to take machine restrictions into consideration. ORBIS Steel offers an analytical solution here, which provides possible combinations that only need to be selected. With the available settings, alternative materials can also be considered. The order combination is then carried out with versatile checks for machine restrictions and quality requirements in compliance with the rules. In addition, the sequence planning supports such combination orders via setup characteristics.

3. Quality management
Since the steel industry, in particular, focuses on quality, quality management is an important key component of the digital ORBIS Steel solution. Customers request dedicated quality characteristics and also require a quality certificate regarding the ACTUAL characteristics. This functionality, as well as the seamless traceability and batch history, are implemented in the ORBIS Steel solution. Moreover, the digital ORBIS Steel solution also has a sophisticated reporting system, which goes beyond the SAP standard and serves the industry specifics.
With respect to quality, the ORBIS Steel solution provides a customer-supplier complaint process based in individual batches. Several batches can be selected and processed in one delivery thanks to an in-house additional function. In addition, certificate management as well as worker self-checks and test machine connections are possible.

4. Batch cockpit
The core functions of the ORBIS Steel solution also include the ability to provide feedback as well as a VPE batch management. Because the combination orders must be reported back in the system at the detailed level, the ORBIS Steel solution provides a feedback application that visualizes all important aspects for the user.
For goods movements, the batches are generated or posted, and all data regarding the origin and activity is updated in a central file. This clear evaluation transaction can be used for employees to always see what happened to a certain batch, when and where. Moreover, a complete tracking is possible, from the material of the primary supplier to the melt. Quality data can be displayed for all batches.
5. MES
In addition, the ORBIS Steel solution has its own steel templates with regard to the MES (Manufacturing Execution System). They provide feedback on both the order combinations as well as prefabrication. Optional quality feedback as well as the connection of machine data recording are also possible.

6. Dispatch cockpit
ORBIS Steel not only offers useful key features along the entire procurement process, but also for the final dispatch. The package sizes and weights need to be taken into consideration for dispatch already in advance, in order to generate "transportable" deliveries and organize appropriate transport means. The dispatch cockpit of ORBIS Steel supports all types of shipments, i.e. to the customer, to the supplier or to the subcontractor. The whole thing is structured according to shipping points and customer delivery addresses. The advantage of the dispatch cockpit is that you can tell at a glance what can be shipped based on inventory and all necessary process steps can be controlled from a user interface.
In addition to dispatch processing for all suppliers, ORBIS Steel also offers batch allocation and early transport planning with virtual batches. During shipping, mobile applications for goods receipt, important quality checks, relocation as well as the loading of products and picking play an important role. All of these functions can be easily implemented with the digital ORBIS Steel solution.
Additional add-ons of the ORBIS Steel solution
In addition to the key features, the digital ORBIS Steel solution has optional add-ons that can be added at any time. These include master data management, scheduling, intralogistics using ORBIS Logistics as well as the product cost calculation with the ORBIS PCC (Product Cost Calculator) and the mobile applications from ORBIS MES (Multi-Process Suite).
7. Master data
ORBIS Steel creates master data in a time-saving manner and reduces the maintenance effort by automatically filling standard fields. This means it is possible to quickly create all of the necessary master data through templates, duplicate check, with and without workflow, as well as versioning.

8. Scheduling
For scheduling, on the one hand, the ORBIS Steel solution offers pre-planning for contracts as well as capacity planning on hours or tonnage. On the other hand, personnel planning is also possible in order to optimally cover the company's personnel needs.

Enhance functions in sales and scheduling:
Rule-based availability checks from the raw goods to the customer order, delivery schedule monitoring and EDI integration.
9. Intralogistics
ORBIS Logistics includes mobile applications to record goods movements "in real-time." For ORBIS Steel, there are pre-defined templates for effectively handling material supply and disposal. Plus, they can be adjusted for the customer's specific needs. In addition, ORBIS is the ideal consulting partner in the context of SAP Warehouse Management. Warehouse management is an additional module in the SAP system, which allows for detailed inventory management. ORBIS SE offers the expertise in WM and EWM environment here with its own intra-logistics solutions.

10. Product cost calculation
The ORBIS PCC (Product Cost Calculator) can be enabled as an additional add-on. This may be a valuable addition to calculate, generate, and compare offers in the early stage with realistic values. If an order is placed, the calculated values of the corresponding offer can then be transferred to a customer order with just one click. If necessary, missing master data can be generated from the tool.
In the product cost calculation, the calculation can occur with or without master data. This has the advantage that a calculation can be carried out for a new or modified calculation without the necessary master data, such as parts lists, work plans, types of service, etc. Calculations, such as prices, types of service, etc., can be adjusted via new functions.

11. Mobile applications
End-to-end process integration in the ORBIS MPS (Multi-Process Suite) of people, machines, plants, devices, systems and sensors. Our digitalization suite is fully integrated in SAP ERP and S/4HANA, eliminating media gaps and non-value-added activities. Quick, automated exchange of information. Process navigation and transparency through visualization on all output devices. A reduced number of interfaces, systems, and potential sources of error.

The benefits of the ORBIS Steel solution for surface fabrication:
Solution 100% integrated in SAP for surface-machining production industry
Pre-defined (best practice) business processes, prepared data structures, integrated QM procedures with product and batch tracing (complete history)
Sets of rules for defined characteristics (can be expanded via additional characteristics), tolerances and limit values for all values of the test reports or one's own laboratory
Sets of rules for parts lists, work and test plans, packaging rules and offer calculations
Rule-based, automated creation of master data (e.g. material master record, parts lists and work plans) and automated filling out of standard fields (object dependencies mapped in software) reduces the maintenance effort
Central monitoring of inventories, resources and services
Material flow across plants and countries with consistent labeling from goods receipt to shipping
Consolidation of distributed SAP functions in cockpits (order, detailed planning, dispatch)
Industry-specific reporting and controlling
Flexible detailed production planning and batch tracing across all processing levels
Optional: Expansion with ORBIS MES

Uses ORBIS Steel solution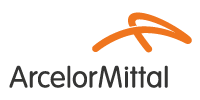 Uses ORBIS Steel solution

Uses ORBIS Steel solution
Uses ORBIS Steel solution
Uses ORBIS Steel solution

Uses ORBIS Steel solution

Uses ORBIS Steel solution

Uses ORBIS Steel solution
Batch tracing & reporting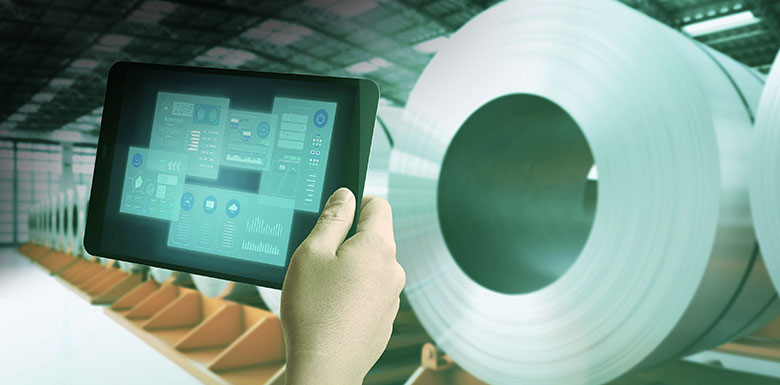 Batch tracing & reporting
Batch management logistics forms part of the ORBIS Steel solution. Not only does it permit storage of many different batch characteristics; it enables targeted and convenient batch retrieval too. In contrast, the Reporting function guarantees efficient reporting and flexible analytics.
Processes, functions & cockpits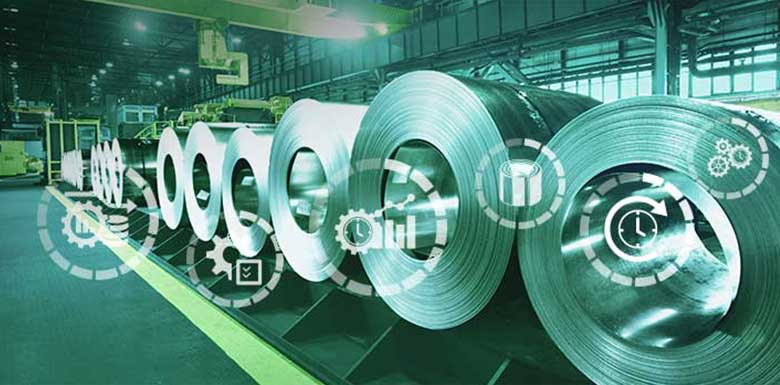 Processes, functions & cockpits
Predefined production and manufacturing processes, not to mention certain functions and cockpits, form part of the ORBIS Steel solution. Get a holistic overview!