Benefit from a hybrid system landscape using solutions from SAP
Two-tier ERP strategy: Start the digital future with distributed systems
Traditionally, companies implement a single enterprise resource planning (ERP) system for their entire organization and their subsidiaries. This unification of the ERP landscape, also known as a Tier 1 strategy, is usually very time-consuming and costly, not to mention the fact that it requires a large amount of resources. Also, this setup often doesn't offer smaller sites and subsidiaries in particular the flexibility and process speed they need to optimally map their business processes.
This is why organizations that want to pursue their Industry 4.0 strategy at the same time as benefiting from the advantages of flexible and effective cooperation are increasingly opting to develop a hybrid approach involving one or more ERP subsystems (two-tier ERP architecture or N-tier architecture).
One approach that is frequently chosen in this context is the "two-tier ERP strategy", which primarily appeals to companies that want a powerful enterprise resource planning system at corporate level, but also want to benefit from the advantages of a less complex, complementary software solution for their subsidiaries and foreign companies. Here, there is a clear trend towards cloud-based applications, such as SAP S/4HANA Public Cloud.
Are you planning to implement a new ERP system for your organization? Or are you currently evaluating whether it's worthwhile rolling out your existing ERP software to additional subsidiaries and/or foreign companies?
Then start by asking yourself the following questions:
Are you expanding faster than you can adapt your software landscape?
Does your existing ERP software's range of functions and complexity exceed the smaller companies' requirements?
Is the cost, effort and complexity of managing your existing ERP system continuously increasing?
If so, a two-tier approach might be just what you need.
What is a two-tier ERP strategy?
A two-tier ERP strategy describes the use of two different ERP systems for different business units within a corporate organization. If, for example, a manufacturing company decides to implement a separate ERP application for its headquarters and another one for its subsidiaries, this is referred to as two ERP tiers and thus a two-tier architecture.
This ERP strategy is based on the discovery that a two-tier architecture is usually far more economical and less time-consuming and costly than introducing a brand-new, all-encompassing ERP application for all of the business units. Similarly, rolling out the existing, highly comprehensive software solution (Tier 1) to smaller, less complex sites, such as newly acquired start-ups or sales organizations based abroad, involves a great deal of implementation effort and associated costs.
The image below illustrates the general structure of such a two-tier ERP strategy within a corporate organization. While the existing Tier 1 ERP is available for the complex functionalities at the company's head office and production sites and can be used as before, the smaller organizational units (e.g. subsidiaries, foreign branches, start-ups) benefit from a simplified ERP architecture that is tailored to their needs (see illustration).
Often, each organizational unit's requirements are significantly different from the head office's, since both meet different business needs and are influenced by the economic and sociopolitical situation of the host countries and other stakeholders. So the standard software used by the head office often isn't ideally suited to a subsidiary due to its high costs and lower flexibility.
What is a Tier 1 ERP system?
In a two-tier approach, Tier 1 is the leading business application within the enterprise organization. Such ERP software is primarily aimed at large organizations with complex structures and international branches (large enterprises). It usually focuses on core functionalities such as finance, human resources and procurement.
An application such as this is individually tailored to the very complex requirements and needs of the company's head office, and, last but not least, involves considerable implementation effort and cost expenditure. The range of functions in an application such as this usually far exceeds the scope required by smaller subsidiaries and start-ups, thus limiting their flexibility and process speed.
What is a Tier 2 ERP system?
A two-tier ERP system is used for SME resource planning at different levels. In the context of a two-tier ERP strategy, it primarily serves as a complementary software system for smaller business units, such as subsidiaries and foreign companies that want to use a powerful, yet lean and largely standardized, ERP system. Integrating a Tier 2 ERP system such as this is more affordable and resource-efficient than a comparable, standardized Tier 1 ERP solution due to the compressed range of functions.
Two-tier ERP systems can be deployed at different levels within an organization and can also be used for different industries. Here, a Tier 2 system is very purposefully adapted to the specific requirements of individual shifts or companies within the organization and, for example, tailored to the management of production processes, the administration of human resources, the control of sales or the coordination of retail.
For whom is the two-tier ERP strategy suitable?
For organizations with smaller, less complex subsidiaries and/or foreign companies that operate in a different industry from the corporate head office and need enterprise resource planning software that is tailored to their individual needs
For new companies that have become part of the organization through a merger, an acquisition or a similar transaction
For organizations that want to take advantage of a two-tier architecture, while still having the existing Tier 1 system available for certain business functions or processes
For companies that want to modernize, but at the same time remain true to their current system landscape
For organizations that want to combine the benefits of an on-prem and cloud-based ERP system and deploy it at different tiers within their organization
A two-tier ERP architecture offers the following advantages
The illustration shows the benefits of a two-tier ERP architecture.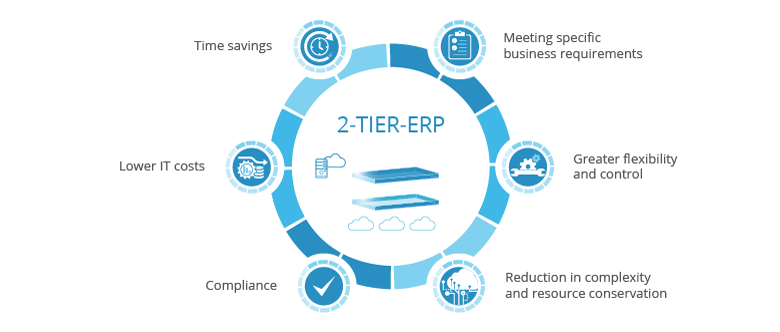 Time and cost savings
Very short project implementation durations due to focus on best practices and reuse of solution templates
Cost savings due to the integration of standardized systems with industry-specific functionalities
Fast and targeted implementation of new innovations due to shortened development cycles
Meeting specific business requirements
Customized and resource-conserving adaptation to the organizational unit's specific needs
Fast and affordable implementation of additional functionalities even after commissioning
Greater flexibility and control
Lean ERP design that focuses on industry-specific processes
Flexible adaptation and short-term response to constantly changing market and customer requirements
Increased transparency and process control due to intuitive and clear user interface (UI)
Reduction in complexity and resource conservation
Reduction in complexity by focusing on the functions and processes that the organizational unit needs
Reduced internal maintenance effort due to automated upgrades / updates from the ERP provider
Conservation of internal IT resources and reduction in total cost of ownership (TCO)
Compliance
Adherence to the latest compliance guidelines and requirements based on current industry standards
Two-tier ERP with ORBIS and SAP S/4HANA
With S/4HANA and S/4HANA Public Cloud, SAP is offering two fully integrated ERP solutions that are perfectly suited as a two-tier architecture solution.
Start your journey to the cloud with a two-tier ERP architecture! A two-tier scenario offers companies the chance to keep their existing ERP or S/4HANA on-prem system and additionally link a cloud-based application such as S/4HANA Cloud.
The image illustrates a typical two-tier scenario using an ERP system from SAP.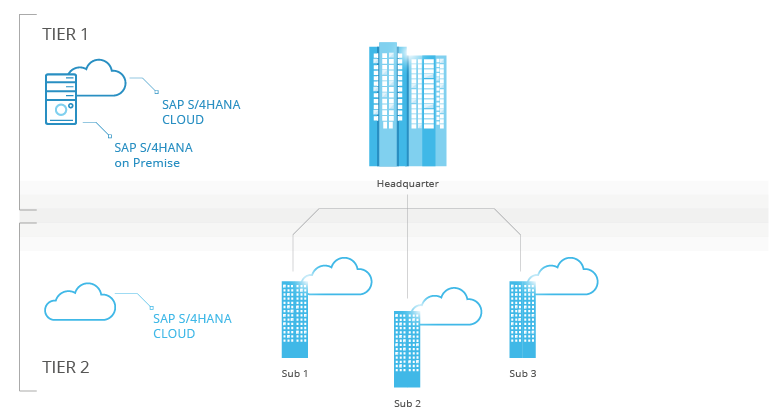 Accordingly, the company's head office (Tier 1) works with SAP S/4HANA On-Prem or S/4HANA Cloud, while the organizational units (Tier 2) use S/4HANA Cloud. The organizational units (e.g. subsidiary 1, subsidiary 2, subsidiary 3, subsidiary x) therefore have an independent and flexible ERP system at their disposal with the advantage of a Software as a Service (SaaS) solution.
Are you interested in a two-tier ERP strategy? We'll help you with the development process!
With more than 35 years of consulting and process experience in the SAP environment, we have implemented numerous customer projects in a variety of sectors. Benefit from our many years of IT knowledge and find your custom solution on the way to becoming an intelligent company together with us as an SAP provider. An up-to-date ERP system is a decisive factor in this respect. Contact us and enter into dialog with us – together, we'll explore the possibility of a two-tier ERP strategy, taking the current SAP portfolio into account.